3 Day Lead Generation Workshop for Real Estate Agents
Blog / 3 Day Lead Generation Workshop for Real Estate Agents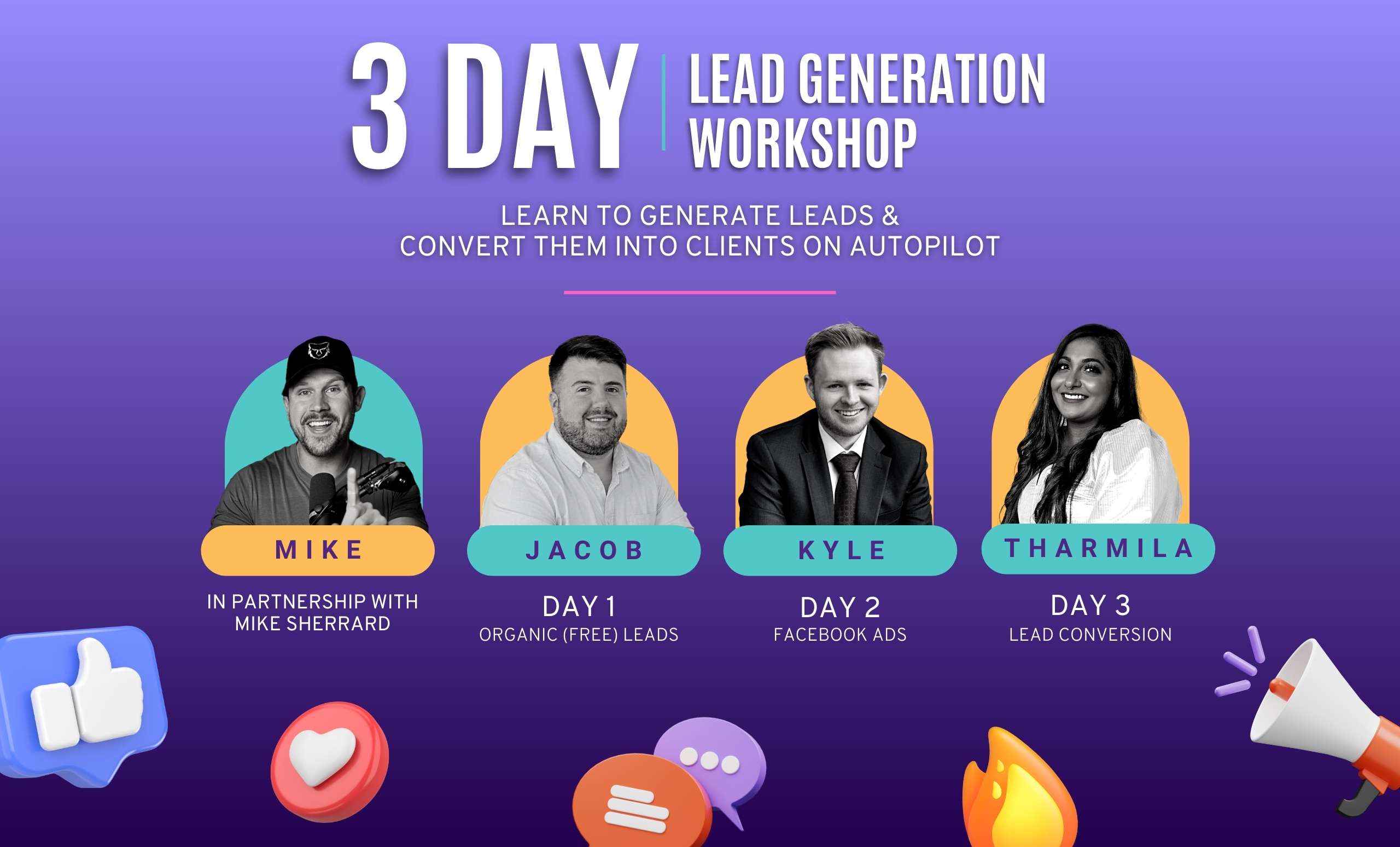 3-Day Lead Generation Workshop
When: TBA
Time: TBA
Cost: FREE
Register: Click here to pre-register FREE as my guest.
Are you a real estate agent tired of chasing the next deal? Are you struggling to get consistent leads coming to you?
Learn the secrets of how to generate consistent leads and have potential clients coming to you and become the "go-to" real estate agent in your local market.
For a limited time, you can take part in an exclusive 3-Day Lead Generation Workshop for real estate agents hosted by industry professionals. This 3-day workshop is FREE to licensed real estate agents and will teach you everything you need to know on how to generate more leads (both free and paid) and how to convert those leads into clients.
This event is in partnership with Mike Sherrard of Agent Wolf Pack and will be taught by Jacob Shireman (web designer & SEO), Kyle Sutton (eCommerce & Facebook ads expert), and Tharmila Rajasingam (marketer and lead conversion expert).
3-Day Lead Generation Workshop Itinerary
Day 1 – How to Generate Organic (Free) Leads on Google
Organic leads are one of the best ways to generate quality leads that are more likely to convert into clients. Jacob is going to show you how you can generate leads for FREE with Google and have leads coming and wanting to work with you.
Rank #1 in Your Area
Optimize Your Website & Google Business Listing
Create Content to Attract Your Ideal Client
How to Generate Leads for FREE
How to Create Your First Blog
Day 2 – Generate Leads in 24 Hours with Facebook Ads
Now that you've learned how to generate organic leads, you can learn about one of the best ways to generate instant leads at scale; Facebook Ads. Facebook Ads are one of the best ways to generate consistent real estate leads on autopilot. On day 2, Kyle is going to show you the exact ads, copy, and strategies he used to get 125 leads for $0.59 each.
Leverage Facebook Intelligence to Find Your Ideal Audience
Why Your Ads Are Not Working
The EXACT Ads We Used to Get 125 Leads for $0.59 each
Highest Converting Ads & Copy
Best Strategies for Testing Ads
Day 3 – How to Convert & Nurture Leads into Clients
What good are leads if you can't convert them into deals? In this training, Tharmila is going to show you how to properly leverage your smart CRM to follow up and nurture leads into clients on autopilot.
Systems & Processes
Lead Follow-up vs Lead Generation
Nurturing Strategies
Follow-up Strategies
Live step-by-step demonstration
Day 1 Instructor  – Jacob Shireman
Jacob Shireman is a digital marketer with over 15 years of experience in web design and SEO. Jacob has managed his own marketing company for over 10 years servicing clients in a variety of industries. He also is the co-founder of Marketing & Mindset, a full-service agency for real estate professionals. He also is the co-developer of karuvi.social which is a social media content platform for real estate agents that provides daily content, strategy, hashtags, and editable templates to help real estate agents grow their following on autopilot.
Jacob is also a real estate agent and global team leader with eXp Realty in Houston, Texas.
Day 2 Instructor – Kyle Sutton
Kyle Sutton is a real estate agent and global team leader at eXp Realty, based out of Toronto, Canada. He has over half a decade of experience in digital marketing, advertising, and media buying. Before real estate, Kyle built and scaled multiplied e-commerce brands to 6-figures in revenue by leveraging social media advertising and email marketing. Now he uses his expertise in digital marketing in order to grow his real estate business and the business of his team's agents all over the world.
Day 3 Instructor – Tharmila Rajasingam
Tharmila Rajasingam is a real estate investor, real estate agent, and global team leader at eXp Realty, based in Toronto. She is the Co-Founder of Marketing & Mindset, an international marketing agency for real estate entrepreneurs. Tharmila values growth and balance, which is why she is passionate about creating an engaging, collaborative and positive learning environment for real estate agents to grow and scale through strategic marketing and technology. Tharmila draws from her 10+ years working in marketing to bring robust and state-of-art lead generation and nurturing tactics to convert leads into clients in any market. She loves leading interactive online training sessions, masterminds, and webinars that provide actionable strategies for immediate implementation.
Register Now for This FREE Training
This FREE training will give you the complete blueprint of exactly what to do to generate both free and paid leads and how to convert them into clients.
This 3-Day Workshop will completely change your real estate business forever. The best thing is that anyone can do it, even if you are not "techie." This takes what most people charge $1,000+ for in a course and compresses it into just a 1-hour LIVE each day for 3 days. Get FREE access to this workshop by clicking the link below.
Get access to the most elite-level training & resources to help you skyrocket production in any market condition.
Learn more about how to become a Modern Agent that drives more leads and closes more deals, and what my group is doing differently to empower agents that no one else is doing here at eXp Realty. Learn how to keep more of your money all while building a solid real estate business.
Based on 15 years of experience & client reviews