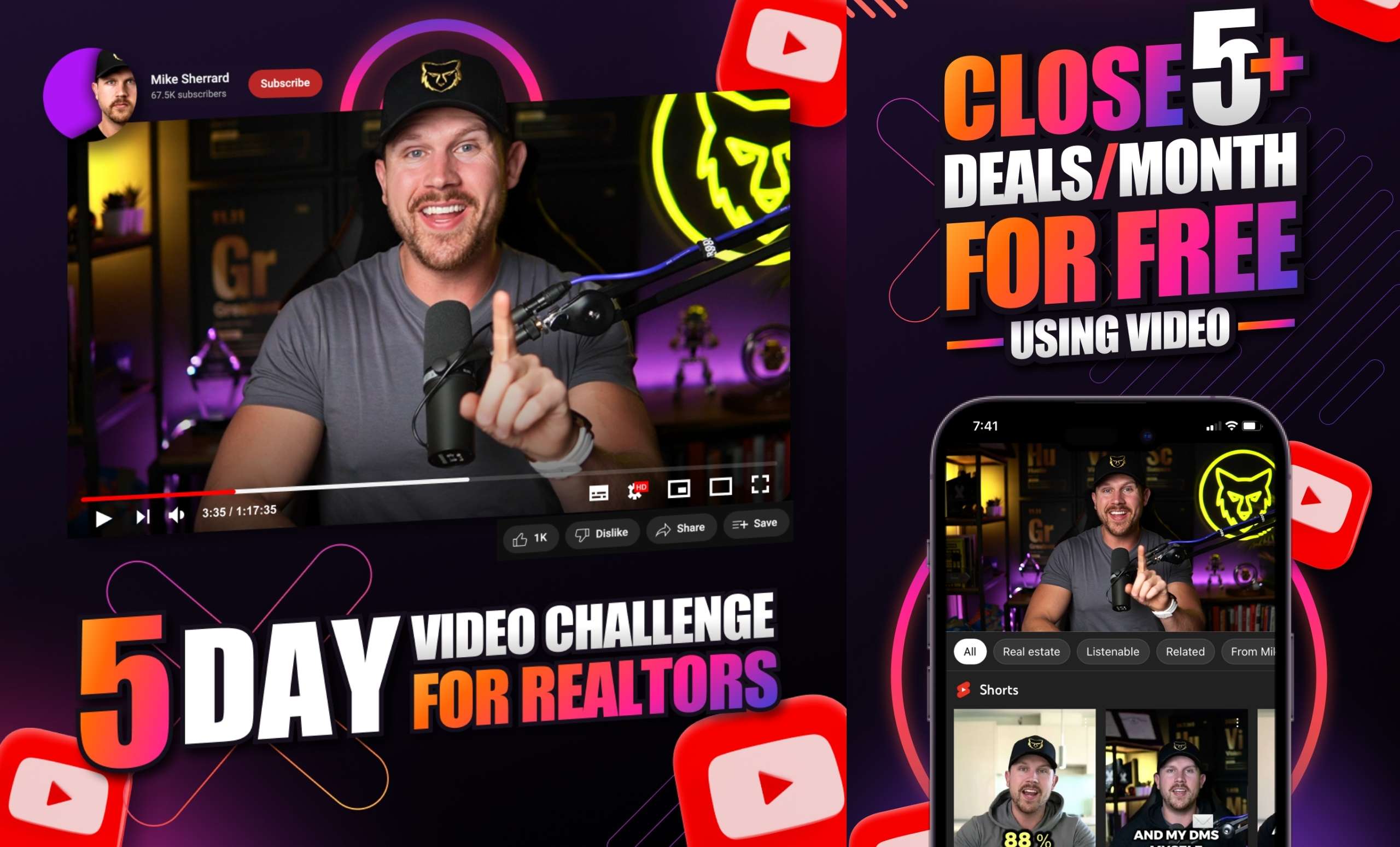 5-Day Video Challenge Featuring Mike Sherrard
When: November 7-11, 2022 (daily training)
Time: 11am-12pm CST
Cost: $97 (FREE as my guest)
Register: Click here to register FREE as my guest.
Are you a real estate agent tired of chasing the next deal?
The Secrets to ATTRACTING CLIENTS and CLOSING DEALS every month for FREE with video!
Mike Sherrard, one of the YouTube channels globally for real estate, is doing exclusive video training for currently licensed real estate agents. This FREE 5-Day Video Challenge only happens once every 6 months. This challenge will completely change your real estate business by increasing your lead generation and in turn increasing your production.
This FREE training will give you the complete blueprint of exactly what to do on YouTube. By the end of the 5-day training, you will…
have published your first video recorded
have your video uploaded to YouTube, Instagram, or TikTok
optimize your video to rank #1
publish your video and start generating leads
This 5-Day Video Challenge will completely change your real estate business forever. The best thing is that anyone can do it, even if you are not "techie." This takes what most people charge $1,000+ for in a course and compresses it into just a 1-hour LIVE each day for 5 days. Get FREE access to this course when you are referred by me, Jacob Shireman.
Meet the Course Instructor Mike Sherrard
The 5-Day Challenge Course Itinerary
DAY 1
Understanding every feature on YouTube
​The importance of video and why specifically YouTube for attracting clients
​The mindset you need to have in order to succeed with video
​The expectations required in order to set yourself up for massive momentum and growth
DAY 2
Optimized YouTube Channel Tags​
Personally Branded YouTube Banner with a FREE CUSTOM YOUTUBE BANNER TEMPLATE
​The EXACT playlists to create that will get people binge-watching your channel
​How to write your About section and include strategic links optimized to convert
DAY 3
The exact videos that are proven to attract clients in every market [EXACT EXAMPLES]
​How to find endless video topics that will consistently attract clients
How to properly schedule your recording sessions
​How to create a content calendar with a FREE CUSTOM CONTENT CALENDAR TEMPLATE
DAY 4
How to deliver a clear message on camera that converts viewers into clients​
How to make recording content EASY!
​How to take a thumbnail photo that engages
​How to design your thumbnail with a FREE CUSTOM THUMBNAIL TEMPLATE
DAY 5
How to properly upload your YouTube video​
How to optimize your video (Tags, Title, Description, Thumbnail, End Screen, etc.)
How to streamline the recording process and batch your content
How to easily stay consistent with your videos without getting overwhelmed
Register Now For
The 5 Day Video Challenge
Let us show you a proven path that we've helped thousands of agents implement to break through plateaus and double their production year over year!
Want me to do it all for you?
Learn how I can drive more traffic to your website and generate more real estate leads for you. I'm determined to make your real estate business grow using my 15+ years of experience to leverage local SEO, content marketing, social media, and paid marketing to drive traffic to your website and generate more real estate leads for you. Are you ready to generate leads on autopilot?
Based on 15 years of experience & client reviews