eXp Realty Recognizes 286 ICON Agents for October 2022
Blog / eXp Realty Recognizes 286 ICON Agents for October 2022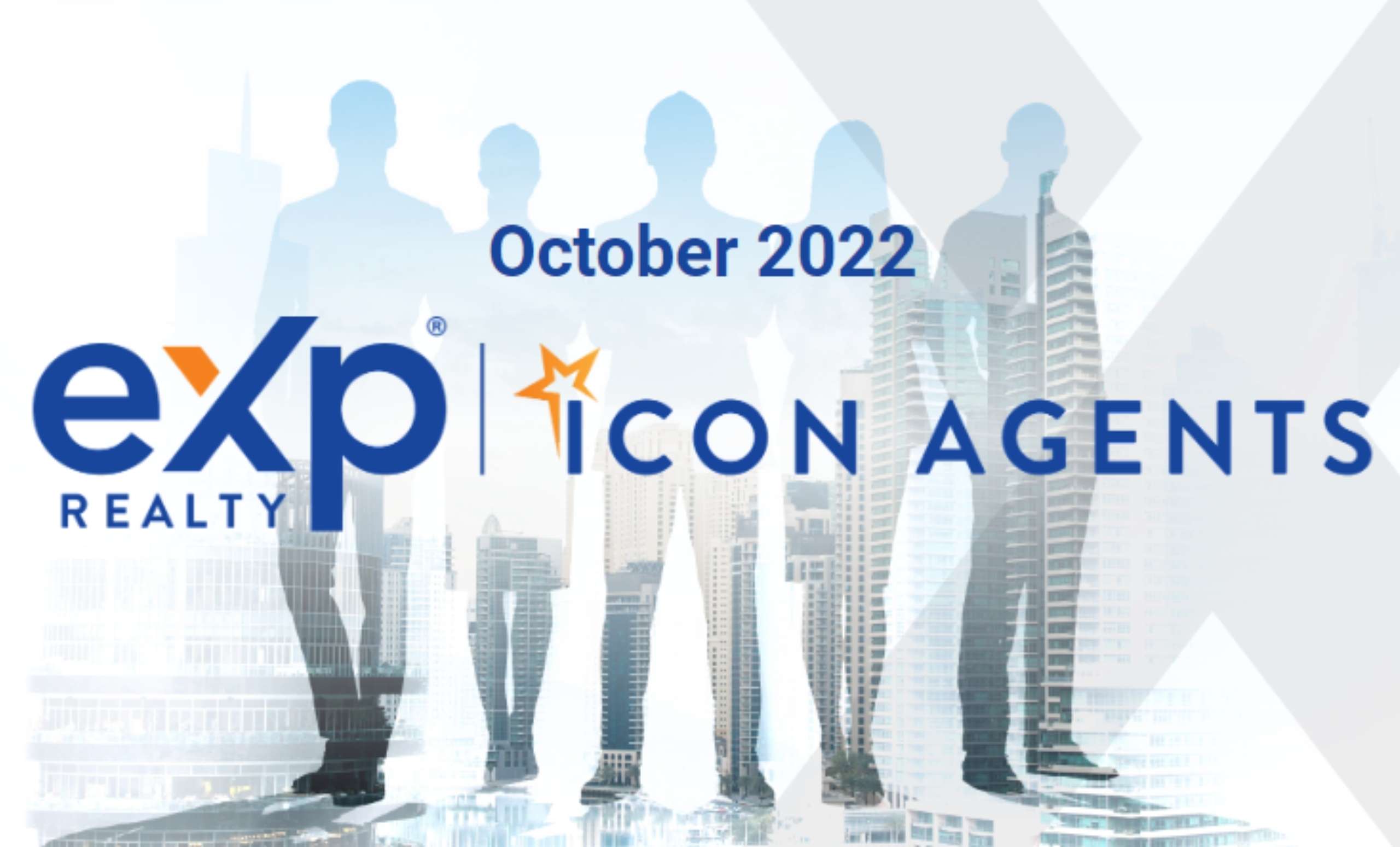 eXp World Holdings (Nasdaq: EXPI), the holding company for eXp Realty, the fastest-growing residential and commercial real estate companies in the world, announced that 286 agents – 242 in the U.S., 37 in Canada, six in the United Kingdom, and one in Australia, were honored as eXp Realty ICON agents for October 2022. That makes a grand total of 2,459 ICON agents for January – October 2022.
January 2022 – 260 ICON Agents
February 2022 – 183 ICON Agents
March 2022 – 198 ICON Agents
April 2022 – 213 ICON Agents
May 2022 – 228 ICON Agents
June 2022 – 255 ICON Agents
July 2022 – 265 ICON Agents
August 2022 – 230 ICON Agents
September 2022 – 341 ICON Agents
October 2022 – 286 ICON Agents
One of the many company incentives that eXp Realty agents strive to attain is ICON Agent status. To be an eXp ICON means agents have achieved certain production requirements as well as represent the company's core values in a 12-month time period.
Icon Status is a major goal for real estate agents at eXp Realty. Especially, since eXp Realty agents have a reputation for only being a recruiting company, which is so far from the truth. Only 12% of eXp's agents focus on agent attraction, while the other 82% of agents focus on real estate production.
Thousands of eXp Realty agents have achieved ICON status since the program started in 2015. Once agents achieve or exceed production requirements, they receive a number of exclusive benefits, including publicly traded eXp World Holdings stock (Nasdaq: EXPI) and invitations to ICON-only groups and at times, events where ICONs can network and learn from each other.
The eXp Realty ICON Agent Award provides each qualified ICON with up to $16,000 in publicly traded eXp World Holdings, Inc. common stock upon the achievement of certain production, cultural, and event attendance goals. The company's cap is presently set at $16,000 (US & Canada). Through the program, ICONs effectively can earn up to their entire cap amount back in the form of stock. ICON Agent qualification and benefit details are available in the ICON Program Overview.
Interested in jump-starting your real estate career? Learn how eXp Realty puts agents first. Click here to learn more.
How do agents achieve ICON status?
Real estate agents licensed with eXp Realty can achieve ICON status by meeting or exceeding the ICON Program's production requirements during their Capping Period. Once involved in the ICON Program, there are additional opportunities for ICONs to earn more awards by "giving back" time, talents, and knowledge to eXp's agent population and also by attending specific eXp-approved events.
When an agent achieves ICON status, that agent can earn up to $16,000 (USD) worth of eXp World Holdings common stock, which is made up of an $8,000 Production Award, a $4,000 Cultural Commitment Award and a $2,000 Event Attendance Award for each approved event. Essentially the real estate agent can earn back their entire cap and keep 100%+ of their commission.
Conclusion
The eXp ICON program has completely changed many real estate agents' lives and businesses. I am thankful for a brokerage that is agent centered and committed to setting real estate agents free and allowing them to have a true business and exit strategy for retirement.
If you are considering a brokerage or looking for a change, I encourage you to take a look at eXp Realty and look at what my group is doing differently inside of eXp Realty. Book a call with me and let me show you what your current career would look like at eXp Realty. Click here to learn more and book a one-on-one call with me.
Get access to the most elite-level training & resources to help you skyrocket production in any market condition.
Learn more about how to become a Modern Agent that drives more leads and closes more deals, and what my group is doing differently to empower agents that no one else is doing here at eXp Realty. Learn how to keep more of your money all while building a solid real estate business.
Based on 15 years of experience & client reviews