eXp Spain | The Complete Guide to Joining eXp Spain
Blog / eXp Spain | The Complete Guide to Joining eXp Spain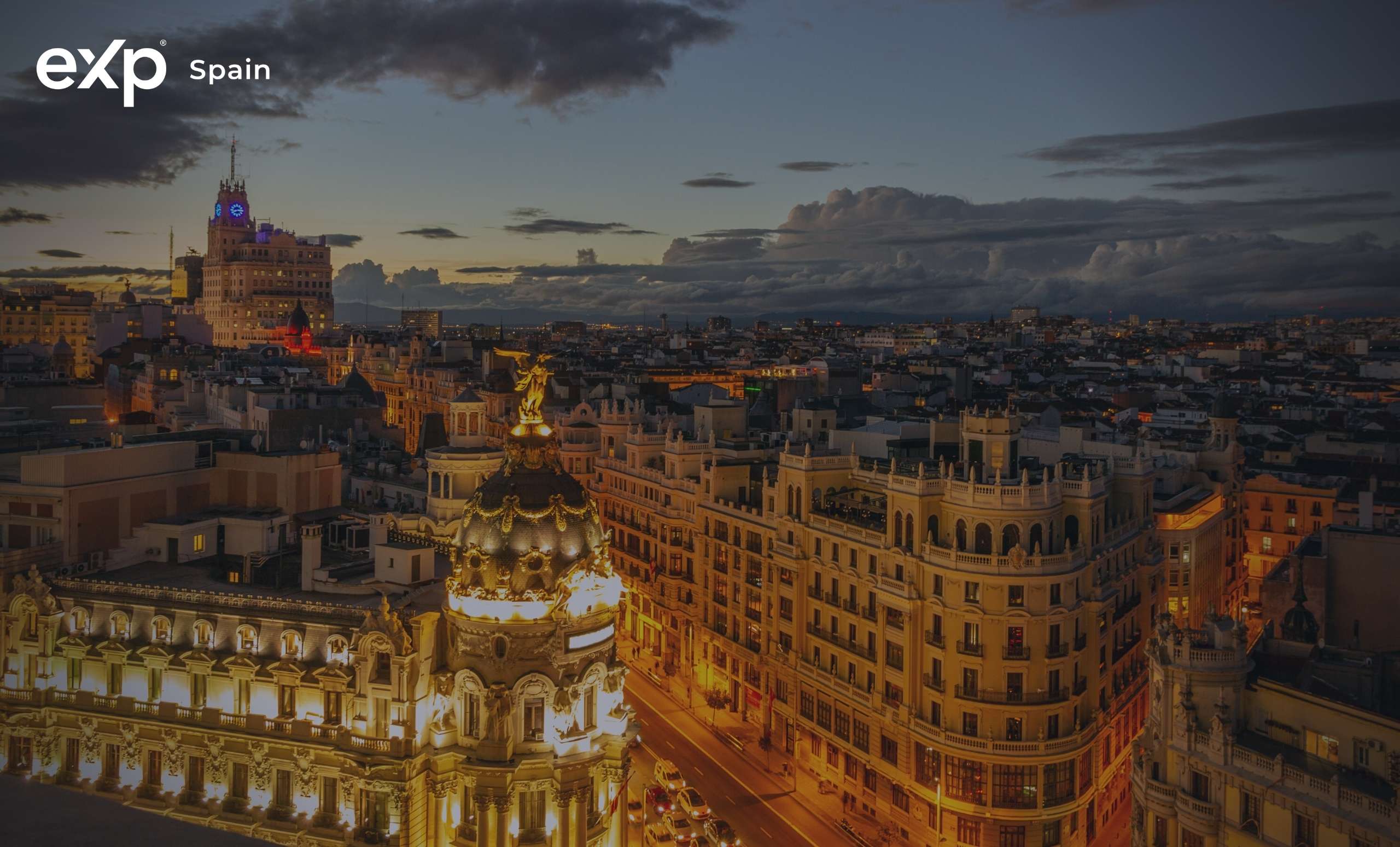 eXp Realty, one of the fastest-growing Real Estate Companies in the World just expanded its innovative brokerage model to ! eXp Realty Spain officially open in May 2021.
"With the addition of Germany, Panama, and Japan, we are solidifying our footprint across the EMEA (Europe, the Middle East, and Africa), CALA (Caribbean and Latin America), and APAC (Asia-Pacific) regions and further developing strategic footholds in each. Germany has one of the largest and most stable real estate markets in Europe, and is a key component to our growth on the continent, joining the UK, France, Portugal, Italy, and today's opening of Spain," said Michael Valdes, President of eXp Global.
I personally am so excited about eXp's expansion into 23 countries as of November 2022. This unique and industry-disruptive business model has provided agents with not only the most technologically advanced tools and resources in the world but also the opportunity to build long-term wealth through equity, residual income, and duplication through revenue sharing.
I want to show you why over 1,000 agents a month are coming to eXp Realty and why eXp Spain is growing exponentially.
In this article, we are going to cover everything you need to know about how the brokerage model works and how to join eXp in Spain.
Why are agents joining eXp Spain?
There are so many reasons why thousands of real estate agents are joining eXp. If you look at the traditional real estate agent and brokerage model, real estate agents are paid to sell properties, and at most brokerages that is where their earnings stop. At eXp, they have created a disruptive brokerage model that provides their real estate agents with multiple streams of income allowing the agent to keep more of their commission (75–100%), create wealth, and build a true real estate business.
eXp Realty is the fastest-growing brokerage in the world and the largest independently-owned brokerage globally. Top that off with world-class training, strategic partnerships, stock awards, and commission split that favor the agents and you have a powerhouse platform that gives agents the freedom and lifestyle they deserve.
Plus, real estate agents are joining our real estate group inside of eXp Realty because we have become the most technologically advanced real estate group at eXp Realty. We offer top social media training and production strategies to skyrocket your real estate business all for FREE with no additional cost or split.
Once you see the eXp Spain model, you can't unsee it!
How does the eXp model work in Spain?
eXp Realty is a full-service real estate brokerage that is replacing the traditional brick-and-mortar model of business with a cloud-based model. It has a fully immersive cloud-based office environment that offers its agents and brokers help and support on a 24×7 basis.
As a cloud-based brokerage, eXp Realty does not have offices in different locations, and the business is mainly conducted online. This means that no matter where you are in the world, you can stay up to date on what's happening at eXp Realty and receive help and training.
Apart from the company headquarters in Belington, Washington, every agent or broker of eXp Realty generally works from home. This results in tremendous savings for the company that is passed on to the agents in the form of very higher commission splits and the chances to earn their entire commission split back. Essentially, making 100% commission.
Another significant distinction between eXp Realty and the majority of other brokerages is that eXp is not a franchise-based brokerage. eXp Realty is the largest independently owned brokerage in the world. Because of eXp and its disruptive brokerage model, they have removed the traditional boundaries and allowed their agents to partner globally. As of October 2022, eXp Realty is in 22 countries, and you can partner with any eXp agent in those countries.
Would you like to build an international real estate team without having to buy into a franchise? You can do it around 100 EUR!
Traditional Brokerages
Only one employee has incentive to grow the real estate business (Broker/Owner and/or Branch Manager)
Most brokerages provide limited leverage for team to grow due to brokerage economics
Very capital intensive (brick and mortar infrastructure)
Limited to single location (physical location of office)
eXp Realty
ALL agents receive financial benefit for helping grow the brokerage (attractive revenue sharing and equity programs)
Ubiquitous back-office and training support helps agents scale and grow more efficiently
Minimal capital required to expand geographically
eXp's agents can expand business to multiple markets more easily
Real estate brokers and team leaders are blown away when they see our brokerage model. They no longer have to be restricted in building a team in their local market, they can build their team globally. Because of eXp Realty's brokerage model, we are allowed to attract agents and build a global real estate team in any of the markets that eXp Realty operates, like eXp Spain.
Plus, the brokers and team leaders do not have the costly overhead and responsibilities they would have at their current brokerage. For instance, office, employees, training, etc. All of these things are provided by eXp Realty. eXp Realty has provided over 900 employees in the cloud that are there to assist our agents round the clock. This frees up the brokers and team leaders to focus on what matters most, building their real estate business.
eXp Realty provides a vehicle for you to build your team without having to worry about the things that many brokers hate.
Here is what eXp Realty says…
"eXp offers a highly competitive compensation package, a unique cloud-based model, and a tremendous global community of agents who collaborate together.
Layer all of this with state-of-the-art technology, forward-thinking leadership, mentorship, training, and networking, and an eXp agent's success is only limited by their own choices. eXp Realty's agent value proposition is about compensation, community and it's cloud-based.
That's why it's the most agent-centric brokerage in the world."
The eXp model took the real estate industry from brick-and-mortar and intercompany competition and created a collaborative and supportive environment in the cloud. Top producers and team leaders at other brokerages keep their secrets to themselves to keep talent within the office. At eXp, our top leaders collaborate and share the secrets of their success. The more successful every agent at eXp is – the more it benefits every agent owner!
eXp's Unique Growth Model
"Cloud based brokerage efficiencies fuel a rich compensation structure for agents
Top-producing agents drive transactions and increase sales volume
eXp agents continue to attract other top talent agents, fueling the cycle of success
Expansion-friendly operating model accelerates global growth
eXp's Agent-Centric Value Proposition
Highly attractive commission structure
Revenue sharing program for attracting agents
Equity awards for meeting production criteria
How eXp's agents earn & keep more of their income?
There are 4 ways to earn income with eXp Spain.
Commission from property sales
Getting their cap back (ICON Agent)
Revenue share
eXp stock awards (EXPI)
Commission from property sales
Unlike traditional brokerages where the agent's commission can vary depending on the production or negotiation skills, all eXp Spain agents receive the same commission structure of a 75/25 split with a 25,000 EUR cap.
To explain this further, the eXp Spain agent keeps 75% of the commission they earn until they have paid a total of 25,000 EUR to eXp Realty. Once the agent has paid the 25,000 EUR cap, the agent keeps the entire commission (100%) for the remainder of their anniversary year. Plus, the eXp agent pays no franchise or royalty fees.
Getting their cap back
At eXp Spain, agents take home a minimum of 75% of the commission they earn. For top-producing real estate agents that want to partner with eXp Spain, there is a program where you can literally earn your entire cap of 25,000 EUR back in company stock awards.
eXp's revolutionary ICON Agent program allows agents to earn 100%+. As a company-recognized ICON agent, agents have the option to earn the entire cap that they paid into the company back in EXPI stock shares. For many experienced producing agents this can be the same as getting a 100% commission check or more on every single one of their sales for the year or better!
To achieve ICON status in eXp Spain, agents must hit their cap for the year and complete additional transaction requirements in the same year. The agent must also meet other cultural satisfaction requirements and follow a few other requirements.
Revenue Sharing
eXp Realty took the seven-tier profit sharing that many traditional brokerages utilized and turned it upside down into revenue sharing. What's the difference? With revenue sharing, eXp can consistently share revenue with its agents off the top instead of profit from the bottom. This is one of the most exciting yet misunderstood benefits of eXp Spain.
When an agent joins eXp, they get the opportunity to choose a sponsor. A sponsor is a licensed real estate agent with eXp Realty who influenced the new agent's decision to join eXp the most.
The eXp sponsor receives a percentage of the sponsored agent's gross commission for as long as both agents are licensed with eXp Realty. Revenue share is paid out of eXp Realty's side of the commission split, and it is not an additional split or fee that the agent must pay. Revenue share is paid on a monthly basis.
The sponsoring agent also receives revenue share from any of his sponsored agent's downline, 6 levels deep.  With the agent plus their 6 levels underneath them, the sponsor has access to revenue sharing totaling 7 levels deep.
Tiers
Maximum Potential Annual
Revenue Share Per Agent
Personal Qualifying
Agent Count Needed
Tier 1
Up to 3,500 EUR
1+
Tier 2
Up to 4,000 EUR
5+
Tier 3
Up to 2,500 EUR
10+
Tier 4
Up to 1,500 EUR
15+
Tier 5
Up to 1,000 EUR
20+
Tier 6
Up to 2,500 EUR
25+
Tier 7
Up to 5,000 EUR
40+
Revenue share or "Rev Share" can be earned from any agent that you attract/sponsor to the company even if they are in a different city, state, or country. You can build revenue share across Spain, the US, Canada, and anywhere else eXp Realty operates.
eXp Stock Awards (EXPI)
The fourth stream of income is another reason why eXp is an agent-centered brokerage because it is an agent-owned brokerage. eXp agents have the opportunity to earn stock awards in eXp World Holdings (Nasdaq: EXPI) which includes the real estate arm, Virbela, SUCCESS Enterprise, and other companies on the rise. This is another reason behind this collaborative brokerage environment, the better the company as a whole performs the better our shareholders' (us the agents) bank accounts look.
There are four ways to earn stock at eXp Realty.
Agent Equity Awards
Earn $200 USD in shares on your first transaction, and on your first home sale each year you are with the company.
Earn $400 USD in shares when you fully cap.
Earn $400 USD in shares when an agent you directly sponsor closes their first transaction.
Agent Equity Program
Equity Shares in the form of banked Commission of 5% on a Trading Discount of 10% (voluntary).
When was eXp Realty & eXp Spain founded?
In 2009, Glenn Sanford founded eXp Realty after the real estate market was crashing all around him. Glenn realized that there was a better way to do real estate. So he started eXp Realty and turned eXp into the "Amazon" of real estate brokerages. Then in May 2021, eXp Spain was launched. 
Glenn saw that the traditional brokerage model was flawed and agents were taking the hit. Plus, real estate agents have no exit strategy. The moment an agent stops selling real estate, they have no income. They own nothing!
The result was a model that is not a franchise, it is a national and international phenomenon.
Glenn's brokerage model, eXp Realty, took the great things about the industry, changed all of the things that are not working in the industry, and eliminated costly overhead and wasted revenue from traditional brick-and-mortar and put it into the cloud. The same way that Netflix ran Blockbuster out of business.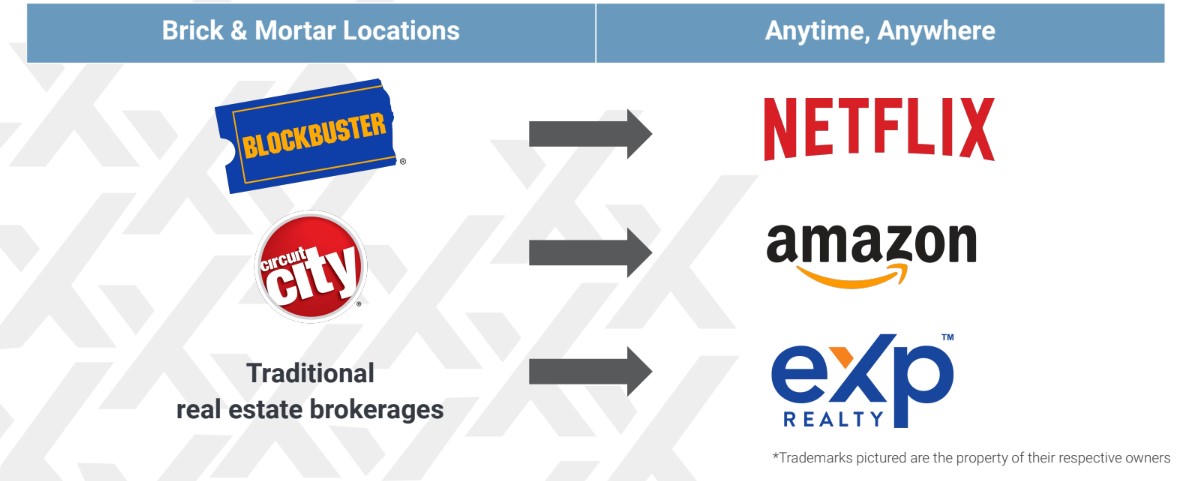 What tools & training does eXp provide?
A mobile phone or laptop and an internet connection are all that are required to transact real estate in the cloud. I know it may sound strange, but with the pandemic, the world has moved even more quickly, and eXp has created a web-based platform to keep up.
Agents can access eXp's tools from anywhere, which is exactly the type of innovation needed to get work done quickly and efficiently. There will be no more inconvenient treks to the office. There will be no more office overhead to pay and the ability to scale quickly.
eXp World
eXp World is eXp Realty's virtual campus where agents go for training, meetings, attend conferences, and even can play soccer.
Once you get access, you will create your avatar and start exploring the online campus. The great thing about eXp World is how fast you can get live on-demand support from your broker of record and transaction coordinators in real-time. Tech support, onboarding, and account services are all available inside your new virtual world. As well as over 900 employees in the cloud at their disposal at any given time.
eXp World is truly amazing in the amount of time that it saves agents from having to go to a brick-and-mortar office for training and support. Inside eXp World agents can access live training from eXp's top producers and ICON agents. Agents also get access to eXp University with various auditoriums and classrooms where they can participate in a live classroom setting with instant feedback. Plus they get to participate in group workshops and masterminds and listen to featured guest speakers from around the country. There is a weekly calendar published every Sunday evening and you can always see it here.
There is also a mobile app for eXp World so you can access all the training while you're in the car driving to an appointment or hanging out in the local coffee shop.
Live Training
Agents will always stay up-to-date with access to over 80+ hours a week of live training taught by industry titans. The training available is for beginners all the way to seasoned agents looking to advance their careers and take their businesses to the next level. There is a wide array of training topics available. Not only do they get access to live training, but they get access to the on-demand library of past training for those who cannot make it live.
Featuring the secrets, tips, and strategies from team leaders across the globe it's almost like you get to attend a powerhouse conference every week for free!
Mentor Program
In my opinion, eXp Realty is one of the best brokerages for new real estate agents. Not only is their training top-notch, but so is their mentor program. Whether you are a new agent or you have been inactive for a while, eXp's mentor program will have you on the right path to success.
All mentors are certified by eXp by going through an extensive training program. Any new agent that has not completed three transactions in the past twelve months will be enrolled in the mentorship program. They will be partnered with a local mentor guiding them through the business with in-person hands-on training.
CRM
Every real estate agent that joins eXp Spain gets their own lead generation website and CRM. With these powerful tools, you can produce many buyer and seller leads that will revolutionize your real estate business. These tools provide a one-stop shop empowering agents with their own lead-generation website and CRM database. The website is not only a powerful CRM tool, but it looks amazing to potential leads and customers.
Agents can effortlessly manage client interactions, share property information, integrate listings, and leverage eXp Realty's capabilities to generate more leads and close more sales on a daily basis.
Transaction Management
All eXp Spain agents get access to a team of dedicated transaction support specialists that are available to guarantee that agents' files are complete and accurate.
Here in Spain, we use a platform to allow agents to manage transactions from beginning to close — totally paperless.
Review transactions from any device
Sign documents digitally
Run your business with the best in online security
Facebook Workplace
One of the best things about Facebook Workplace is that we have access to everyone in the company from employees to agents and even access to Glenn Sanford. It keeps our entire organization connected. Just like Facebook, you can join groups, collaborate, and ask questions to other agents. One of the best things I like to use Workplace for is the referral groups. Great way to collaborate with agents all over the world to share referrals and refer them to an agent that you can trust.
eXp Enterprise
eXp Enterprise is your one-stop shop for everything eXp Realty. It's a complete dashboard to view your transactions, commissions, team, and agents you've sponsored or to order marketing materials. Like any dashboard, it allows you more control and visibility into critical data and analytics.
What are the fees & commission splits for eXp Spain?
At eXp Spain there are no desk fees, no franchise fees, and no royalty fees!
Because of eXp Spain's cloud-based model they have eliminated all traditional expenses of a typical brick-and-mortar brokerage. eXp Spain agents pay a low monthly brokerage fee of 50 EUR + tax that gives agents access to all of the tools and training above plus access to all of eXp's virtual campus.
Plus, eXp Spain's agents keep 75% of their commission which has blown away most compensation packages in Spain. Plus, if an agent becomes an ICON agent and they will receive 100% of their cap back in stock awards!
Commission & Cap
75/25 commission split
25,000 EUR
After cap, earn 100% commission for the remainder of anniversary year.
Standard Costs
100 EUR start-up fee
50 EUR + tax monthly cloud brokerage fee
5% transaction fee
Why join our group inside eXp Spain?
Join the most technologically advanced global real estate group with the fastest-growing brokerage in the world. Our group the Wolf Pack is one of the fastest-growing groups here at eXp Realty. Over 1,300+ real estate agents around the world have joined our group to get access to the top-of-the-line training and resources that we provide for FREE (no extra cost or split). Our group's value stack can't be beaten.
Not only do you get access to all of the amazing resources below powered by the Wolf Pack, but you get access to my exclusive training and my 15+ years of experience in marketing, web design, local SEO, and social media. Check out some of the amazing resources that you will get access to here exclusively with my group inside of the Wolf Pack here at eXp Realty.
Wolf Pack
Free
/ All Wolf Pack Members
Access to Mike Sherrard's Social Agent Acadamey
Access to the Wolf Pack Hub
Access to 4 Weekly Private Masterminds
Access to Connor Steinbrook's Team Building Training
Access to Connor Steinbrook's Real Estate Investor Training
Access to New Agent Onboarding
Access to Production Training
Access to Custom Listing Presentation
Access to Private Facebook Groups
J&M Realty Group
Access to Karuvi.Social Platform (Social Media Content Done for You)
Access to Marketing & Local SEO Training
Access to My Custom Agent Attraction Funnel & System to Grow Your Team
Access to My Custom Website Templates for Agents
Access to kvCORE & CRM Training
Access to Marketing & Lead Generation Strategies
Access to Real Estate Templates (Print & Digital)
Access to an Additional Weekly Private Mastermind
Access to Lunch & Learns & Live Webinars for team-building opportunities
Access to One-on-One Marketing Consultation
Access to a Full-Service Marketing Agency for Agents
And much more!
My goal is to help you drive more traffic, generate more leads, and grow your real estate business. Let's make this your best year yet in real estate! Click here to learn more about joining my group and schedule a one-on-one call with me.
Si prefieres ver más información de mi equipo en español y agendar una llamada conmigo, haz un clic aquí. Y sí, hablo español.
How do you join eXp Spain?
You can join our real estate group and partner with me here at eXp Spain in a few easy steps.
Fill out this form to join eXp Spain with Jacob Shireman as your sponsor.
You will be redirected to fill out an application to Join eXp Spain. It is important that you list Jacob Shireman as your sponsor to get access to everything our group offers.
You will receive an email from eXp Spain with your independent contractor agreement (ICA). You will digitally sign the ICA document, send it back to eXp Spain, and submit your initial payment (application fee of 100 EUR).
Upon completion of the ICA, you will receive a welcome email and get access to all of the group's amazing resources and training.
You will get a link in the email to schedule a one-on-one call with me to get you started and plugged in.
Get access to the most elite-level training & resources to help you skyrocket production in any market condition.
Learn more about how to become a Modern Agent that drives more leads and closes more deals, and what my group is doing differently to empower agents that no one else is doing here at eXp Realty. Learn how to keep more of your money all while building a solid real estate business.
Based on 15 years of experience & client reviews