Agent Wolf Pack & eXp Realty Explained – A Comprehensive Review & Guide
Blog / Agent Wolf Pack & eXp Realty Explained – A Comprehensive Review & Guide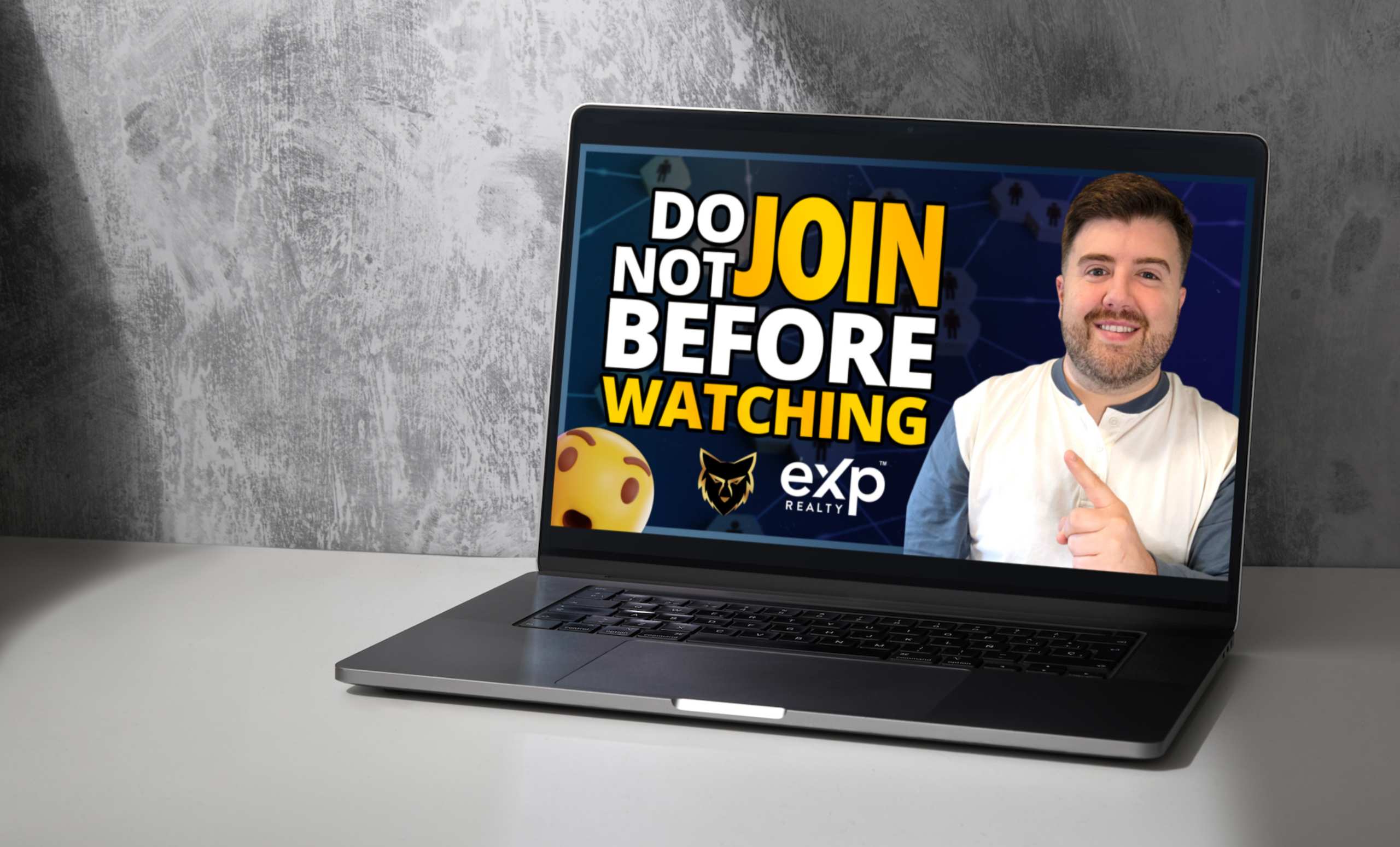 If you've been researching eXp Realty, you've likely come across one of the fastest-growing groups within this cloud-based brokerage called Agent Wolf Pack, led by Mike Sherrard and Connor Steinbrook. The Wolf Pack has gained a reputation for its social media and YouTube training and has become increasingly popular among real estate agents.
Before joining Agent Wolf Pack or choosing a sponsor within the group, it's essential to understand what the Agent Wolf Pack offers and how it aligns with your goals.
In this article, we will delve into my personal experience with Agent Wolf Pack and eXp Realty. We'll also discuss common mistakes agents make when joining eXp Realty and the Wolf Pack.
Additionally, we'll explore how you can access valuable resources exclusively to my group in the Wolf Pack to elevate your real estate business and become a top agent in your market.
Agent Wolf Pack & eXp Realty Review
About the Agent Wolf Pack.
My experience within the Wolf Pack and eXp Realty.
Common mistakes of agents joining the Wolf Pack.
How to get access to the best value stack at eXp Realty.
If you would rather watch or listen to this content, check out the video!
Understanding Agent Wolf Pack & eXp Realty
Agent Wolf Pack is more than just a group within eXp Realty—it's a thriving community led by Mike Sherrard. With a notable presence on YouTube, Mike has gained a large following of over 82,000 subscribers and established himself as an authority in the real estate industry. His expertise in social media training has become a cornerstone of Agent Wolf Pack's success.
Mike's focus on social media platforms such as Facebook, LinkedIn, Instagram, YouTube, and TikTok has transformed the way real estate agents approach lead generation. By sharing his strategies and insights, Mike empowers agents to harness the power of these platforms and leverage them to their advantage. Through Agent Wolf Pack, he has created a platform where agents can learn from his expertise and implement effective social media marketing techniques to propel their businesses forward.
One of the key strengths of Agent Wolf Pack is its focus on cutting-edge marketing strategies. Agent Wolf Pack equips agents with the tools and knowledge to stay relevant and thrive in an ever-evolving digital landscape.
Furthermore, the impact of Agent Wolf Pack extends beyond social media training. The group has become a tight-knit community where agents can connect, network, and build relationships. Through mastermind calls, events, and shared experiences, members of Agent Wolf Pack form valuable connections that can lead to collaborations, referrals, and long-term professional partnerships.
Ready to join? I know it sounds good, but DO NOT join just yet. I do not want you to make the same mistakes joining eXp Realty as other real estate agents.

Understanding Agent Wolf Pack & eXp Realty
As a real estate marketing expert with over 15 years of experience in web design and SEO, Agent Wolf Pack immediately caught my attention. The group's emphasis on marketing strategies resonated with my expertise and goals. By joining Agent Wolf Pack, I gained access to invaluable social media training, mastermind calls, and other resources that complemented my existing knowledge.
Furthermore, I made a conscious decision to align myself with a sponsor, Tharmila Rajasingam, who shared my marketing background. This strategic alignment allowed me to leverage the resources provided by not only eXp Realty and Agent Wolf Pack, but also the resources provide by Tharmila like here kvCORE Lead Generation Course. Instead of choosing Mike Sherrard as my sponsor and limiting me just to his value stack of resources, I choose Tharmila as a sponsor to get her resources as well as Mike's. This strategic alignment enhanced the value I could offer to my team and potential agents.
Joining eXp Realty has also been a transformative experience. The company's forward-thinking approach, comprehensive training programs, and innovative business model have opened up endless opportunities for success. The collaborative environment within eXp Realty fosters a strong sense of community, enabling agents to learn from one another and strive for excellence.
In conclusion, my journey with Agent Wolf Pack and eXp Realty has been truly transformative. The resources, training, and support provided by the group and addition to the resources I have developed from my marketing background have propelled my real estate business to new heights.
Aligning myself with a sponsor who shares my marketing background and values has been a game-changer, enhancing the value I can offer to my team and potential agents.
If you're looking for a community of like-minded individuals, cutting-edge marketing strategies, and a revolutionary business model, I highly recommend exploring the opportunities of joining my group inside of Agent Wolf Pack and naming me, Jacob Shireman, as your sponsor.
It could be the key to unlocking your real estate success.
Common Mistakes to Avoid When Joining Agent Wolf Pack & eXp Realty
When joining eXp Realty or any specific group within eXp Realty like Agent Wolf Pack, it's essential to make informed decisions and avoid common mistakes.
Choosing only a local sponsor
One common pitfall is solely focusing on local sponsors based on proximity rather than evaluating their ability to provide additional training and support. It's crucial to align yourself with a sponsor who can address your specific needs and offer resources that complement your strengths and weaknesses. Remember, that eXp Realty will provide all of the local support that you need with mentors and brokers, so choose a sponsor based on who can help grow your real estate business.
Not Choosing a Sponsor
Each month so many agents make the biggest mistake when joining eXp Realty by not choosing a sponsor. Without a sponsor, agents may miss out on additional resources and the long-term support that a sponsor can provide to help grow their real estate business. While eXp Realty offers an array of resources and training on its own, having a dedicated sponsor can offer agents an extra layer of support, guidance, and personalized assistance. A sponsor can provide valuable insights, share proven strategies, and help agents navigate the intricacies of the real estate industry. By choosing a sponsor who aligns with their goals and values, agents can tap into a long-term relationship that goes beyond the initial onboarding process, fostering continuous growth and success in their real estate careers. Plus, a sponsor is a FREE added benefit, why would you not choose one.

Just Choosing Any Sponsor Inside Agent Wolf Pack
To avoid such mistakes, take the time to research potential sponsors within Agent Wolf Pack. Look for sponsors who align with your goals, have a solid understanding of marketing strategies, and can provide the necessary support to help you succeed. Don't limit yourself to just any sponsor; explore various options to find the best fit for your business. Look at the value stack that will compliment the included resources of the Wolf Pack.
Take a look at what my group inside Agent Wolf Pack offers, and how I feel we have the best value stack in ALL of eXp Realty. Click here to learn more.

Access the Best Value Stack & Resources in All of eXp Realty
It is not secret that the Agent Wolf Pack group at eXp Realty is the fastest-growing group because of the amazing modern resources they have for real estate agents. By aligning with my group inside of Agent Wolf Pack not only do you get all of eXp Realty's training, Agent Wolf Pack's resources, T&R Group's resources, you get my all of my resources and 15 years of REAL marketing experience.
Here are just some of the resources that are available ONLY to my group inside of the Wolf Pack.
Real Estate Website & Sales Funnel
Get access to one of the top website and sales funnel for real estate agents to help you generate and convert leads. This is not only a sales funnel but a client onboarding funnel as well. You will get step-by-step videos on how to properly set up and customize your website and funnel.
Karuvi – Social Media Content Platform
Karuvi is a social media content platform that gives you daily content, strategy, editable templates, optimized hashtags, and marketing resources to take the guesswork out of what to post to social media. Karuvi will help you grow your online presence and generate more leads on social media.
kvCORE Lead Generation Course
Get access to the top kvCORE CRM training for free. This training not only guides you step-by-step on how to set up kvCORE, but how to actually use each feature to generate and convert your leads into more and clients and closed deals.
Access to My Marketing Company
We provide plenty of resources to do your own marketing. For individuals who prefer to have professionals assist them with anything marketing, my agents get access to my marketing company, Miffed Media, and its marketing services at a discount. Miffed Media is a full-service marketing company providing resources like branding, graphic design, social media management, web design, video editing, and more.
Local SEO Training
Get access to my course and my 15 years of experience in SEO and learn how to grow you online presence and rank on Google for your local area. Get step-by-step videos on how to get organic leads through your website and Google Business & Google Maps profile.
Agent Attraction Funnel
Get access to my Agent Attraction Funnel with step-by-step videos on how to set up and customize your funnel. This will help all agents who are interested in growing their revshare organization on autopilot at eXp Realty.
Friday Connect
Get weekly access to Friday Connect training were you can learn from top industry professionals on topics like real estate marketing, social media marketing, branding, production, and more. Get everything you need to grow your real estate business. This is also a great way for agents to invite other real estate agents they are looking to sponsor at eXp Realty.
Conclusion
Joining Agent Wolf Pack within eXp Realty offers tremendous opportunities for real estate agents seeking to elevate their careers. By aligning yourself with a sponsor who shares your goals and offers a comprehensive value stack, you can access valuable resources and training to help you thrive in the competitive real estate industry. Take the time to research potential sponsors, consider their expertise and offerings, and make an informed decision that will benefit both you and your future team.
If you're interested in exploring the resources and opportunities offered by my group, I encourage you to schedule a call with me. I'll be more than happy to provide further information and guide you through the process.
Remember, success in real estate is a journey, and aligning yourself with the right group can make all the difference.
Get access to the most elite-level training & resources to help you skyrocket production in any market condition.
Learn more about how to become a Modern Agent that drives more leads and closes more deals, and what my group is doing differently to empower agents that no one else is doing here at eXp Realty. Learn how to keep more of your money all while building a solid real estate business.
Based on 15 years of experience & client reviews